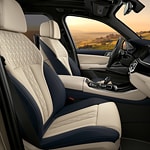 In addition to its incredible performance, stylish exterior and posh interior, the BMW X7 is ideal for anyone who prioritizes safety. The safety features in this car enhance your driving experience.

Rear-View Camera

The rear-view camera in the BMW X7 provides an excellent view of the area behind your car. It provides far more than you can see by turning your head. We appreciate the benefits of safety features like the rear-view camera. Our team at Autohaus BMW wants you to find a car with the features you desire and need.

Low Tire Pressure Warning

It hasn't always been easy to know if you have enough air in your tire. The low tire pressure warning feature in the BMW X7 simplifies that process by illuminating a warning light when the air pressure in your tire is below the recommended amount. The information provided helps prevent tire failure, decreased fuel economy and excessive tire wear.