SERVICE ADVISORS
Victor has been with the Autohaus family since 1998 and was promoted to service manager in 2004. Victor has won numerous BMW (Profiles in Achievement Awards & Honors) these honors are given to those who continually meet and exceed customer expectations. Victor's last award earned him a week-long trip to Hawaii...

         

Victor Richards
Service Manager

 
---
When Mike came on board at Autohaus in 1985, the Service Department consisted of a working Service Manager, six technicians and a shop foreman. Since then, Mike has watched the company grow to employees in every department, the addition of the MINI, and the new Autohaus facility. His advice to new employees is to remember the customer is your friend - they provide the work that produces your paycheck and, as a team we will continue to succeed.

Mike is always ready with a smile and a joke when needed. Thanks Mike!
         

Mike Crader
Service Advisor

 
---
Linda came to Autohaus in March 2011, after 13 years with Plaza Motors. Linda joined Autohaus because she wanted to work for a family-owned dealership. She believes this allows her to give her clients a more personal touch. Linda takes pride in giving each customer the Ultimate Autohaus Experience. She looks forward to each and every client that comes through.

         

Linda Schaefer
Service Advisor

 
---
Chris' game plan of working smarter, not harder with a positive attitude has worked as evidenced by the fact that in just four years after he was hired as a porter, he was promoted to client service advisor.

It helps that he grew up around BMWs making him a certified "car guy". He enjoys watching motosport racing (ALMS, Formula One), the Cardinals, NISA and NCAA basketball as well as PGA Tour Golf. He also plays golf when he gets the chance.
         

Chris Clem
Service Advisor

         
 
---
Patti Kupfer joined Autohaus in 2016 and has since gained a 5-star rating on DealerRater.com! Her customers consistently comment on her great service. We are happy to have her on the Autohaus Team!

           

Patti Kupfer
Service Advisor

           
 
---
---
Amanda has worked for Autohaus BMW for over 2 years, and has over 27 years in the industry. Her clients appreciate her attention to detail as she is listening to them review their service needs.
In her free time, Amanda likes to spend time with her family and is known for her amazing culinary skills!
             

Amanda Suraci
Service Advisor

             
 
---
 
Ethan joined Autohaus in the summer of 2013 as a porter and quickly proved himself, getting the Service Advisor role just 3 years later. He quickly builds rapport with his clients, which is perfect for this position. He grew up in the Northeast and is used to colder weather and adventuring outside with his dog.  He also enjoys playing music and can speak Spanish!


             

Ethan Krysiak
Service Advisor

             
 
---
Walt is our service dispatcher; he keeps things running smoothly and efficiently amongst the service technicians and the advisors. Walt has been with Autohaus for 2 years and in the auto industry for 29 years. He has been a service manager for BMW, Toyota and Lincoln/Mercury dealerships. He started out as a rust proofer and worked his way up quite nicely. In his free time he likes to golf and spend time with his family.

             

Walt Goepel
Service Dispatcher

             
 
---
Autohaus Service Technicians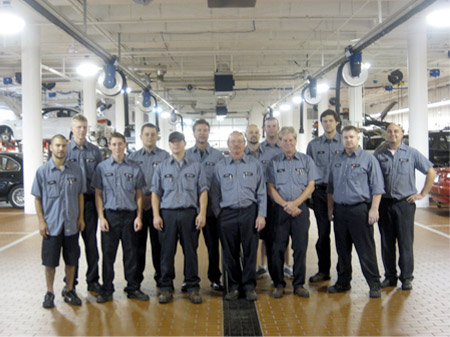 Front row (left to right) James Pfeifer, Andy Jenkins, Eric Miller, Ernie Schneider, Don Manson, Dayn Appleland, Back row (left to right) Will Steidley, Andrew shackley, Steve Pfeiffer, Dave Mainini, Jason Quinley, and Sam Steidley
---
           

Don Manson
Master Technician

(Retired in 2019)

         
Persistence pays is what Don Manson would tell you! In 1976 he applied to Autohaus in Webster but didn't get his chance to shine until the following year when he went to the Maryland Avenue location and talked directly with Willi Fink, Autohaus owner. From that point, Don was Autohaus' Shop Foreman for 42 years until he retired in July of 2019.  He says that starting out in a family dealership and seeing it grow to a World class force in the industry has been gratifying to be a part of.                   
---
               

Andy Jenkins

         
Andy Jenkins is a master technician in the Autohaus service department.Andy is a 2005 graduate of the BMW STEP program and has been with BMW ever since. In Andy's free time he likes to participate in BMW club events and likes to ride motorcycles.         
---
       

Jason Quinley

       
Jason Quinley has been with the Autohaus service department as a technician for several years. Jason has won numerous employee of the month awards for his hard work and commitment to the job. Jason attended Ranken Technical Institute where he earned his certification. In his free time he likes spending time with his daughter and wife.             
---
       

Dave Mainini

       
Dave Mainini is one of our finest Autohaus technicians as almost always receives a perfect score on his customer surveys. Dave started out as a MINI technician and was promoted to BMW technician. Dave has been with the company for many years. He is a graduate of Ranken Technical College. His hobbies include golf, bowling, and softball. In his free time he likes to spend time with his wife and children.             
---
         

Sam Steidley

         
Sam Steidley is a true master technician. Sam is very proficient in his work and leads the CSI surveys almost monthly. Sam graduated from the BMW Step Program and found his home here at Autohaus. He has been with us for over 9 years and we are so fortunate to have him on our team. Sam's hobbies include; golf, hockey, and motorcycles.                 
---
       

James Pfeifer

       
James Pfeifer is a graduate of Ranken Technical College and General Motors ASEP program. James worked for GMC Pontiac Buick before the great transition to BMW. James has 7 ASE certifications and was master certified in 4 out of 7 areas before switching to BMW. We find James to be an outstanding tech whom is well qualified to take on any job here at Autohaus BMW. James has a lovely wife and 2 boys. James loves to hunt, fish, golf and spend time in the great outdoors.             
---
     

Steve Pfeiffer

     
Steve attended Bailey Tech for two years. In January 1986 he started working at the Maryland Avenue store. At that point, there were three mechanics and a service writer. About 5-8 years later Steve moved to the Service Department at 125 South Hunter Avenue. Steve said the changes in the actual cars mean that instead of adjusting valves and checking off lists of service items, he is changing computers and programming them. Quality not quantity was the work adage when Steve started in 1986 and that has carried over with the veterans in the shop; and, been passed on to the new guys, along with the rule that you, "help your co-workers with day-to-day problems." Steve shared that he has, "a beautiful wife, Marlene, two adult sons, Steven & Zach, and, our third child is Chloe, our Welsh Terrier!" In his free time Steve enjoys biking, hunting, fishing and riding motorcycles.         
---
Autohaus Parts Department
---
Doug joined up with Autohaus in 2005 after leaving another local BMW dealer. Doug brings a smile to everyone's face at the dealership and is always willing to go out of his way to help a fellow employee and customer! In Doug's free time he likes to spend time with his family and enjoys watching track races.       

     
       

Doug Harris
Parts Advisor

 
---
Brian been with Autohaus since 1993 and brings a wealth of knowledge to the position. Brian has recently become our Dinan sales specialist and can outfit your BMW with the latest and greatest in Dinan technology. In Brian's free time he likes to spend time out on his wave runner and with his family       

     
       

Brian Fischer
Parts Manager