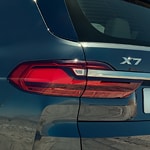 Driving a BMW X7 with incredible safety features can sometimes make you want to spend more time on the road. Safety should be a priority which is why our team at Autohaus BMW appreciates all that the BMW X7 offers.
Parallel Parking Assist
Parallel parking under the best circumstances can be difficult for many people. That's why the available parallel parking assist feature in the BMW X7 is a beloved technology. It relieves the stress of parallel parking with advanced sensors that guide you as you park. You can now parallel park with keen accuracy.
Evasion Assist
The purpose of the available evasion assist feature in the BMW X7 is to help you avoid a collision by improving the stability of your vehicle when you suddenly take an evasive steering action. This advanced technology helps decrease the stress of maneuvering to avoid hitting an object or prevent a collision with a pedestrian.