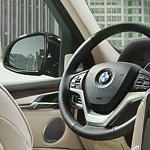 The all-new BMW X5 is a luxurious SUV that offers an impressive list of features and amenities. The interior is considerably spacious and comfortable, with plenty of room for passengers and cargo. The exterior is stylish and modern, with a sleek design that will turn heads.
The new BMW X5 is packed with features that are sure to impress. Some of the key and new features include a spacious and comfortable interior with plenty of room for passengers and cargo, a stylish and modern exterior, and a long list of standard and optional features.
When it comes to the interior of the new BMW X5, there is plenty of space for both passengers and cargo. The seats are comfortable, and they provide plenty of legroom, while the headrests can be adjusted to provide optimal support. In addition, the rear seats can be reclined for added comfort, and there is plenty of room in the trunk for luggage.