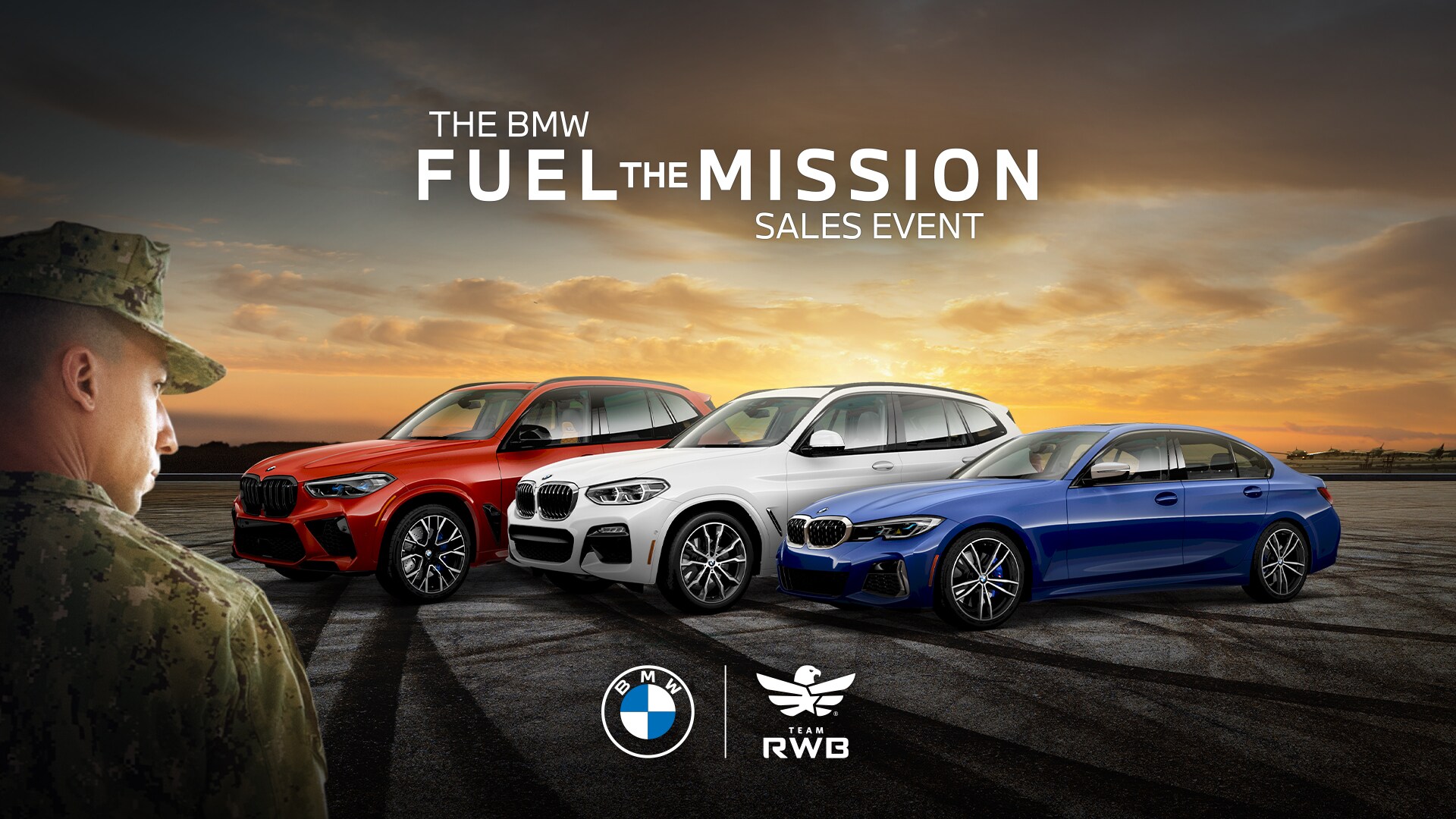 let's FUEL THE MISSION with a bmw test-drive event!
TAKE A TEST DRIVE BETWEEN MAy 17TH AND 22ND, AND WE'LL REWARD YOU WITH $1,000 TOWARD THE new Bmw MODEL OF YOUR CHOICE**.  
For each Test Drive, Autohaus will donate $50 to TEAM RED, WHITE & BLUE*!
No need to RSVP, we will register you at the event or email jamie.miller@bmwautohaus.com for your virtual test drive entry.
You'll receive a $1,000 Credit** toward the purchase or lease of a new BMW during our Fuel the MIssion Test-Drive Event, May 17th - 22nd. 
Staying Safe by sanitizing each vehicle before/after test drives and everyone wearing face protection.
Experience the New 2021 BMW Lineup including the BMW X1, 3 Series, X3 and X5.
Get exceptional lease pricing and interest rates, and higher trade value for your trade.
BMW lease, cash off and rate specials - see below for details.
Tour our spacious, modern showroom, with new customer lounge area.
Learn about the latest BMW Innovations in safety, performance and technology with a BMW Genius.
Enter the raffle to win BMW Lifestyle giveaways and a BMW Bike.
Enjoy red, white and blue beverages and food delights!
*
Team Red, White & Blue is the non-profit organization that is forging America's leading health and wellness community for veterans, service members, and their families, they strive to make tomorrow better. Together, we will find strength and success.  For more information, see: www.teamrwb.org. 
** $1,000 offer is only available during the 2021 May Central Region BMW Fuel the Mission Sales Event- May 17, 2021 through May 22, 2021 - and valid on eligible vehicles leased or purchased from participating dealers and delivered May 17, 2021 through August 31, 2021. Eligible models include All MY2020, MY2021 and MY2022 BMWs. BMW Pre-Owned/CPO vehicles do not qualify. Retired Service Loaner and Demonstration vehicles that have accumulated over 7,500 miles do not qualify. BMW Company vehicles and any other vehicle that has accumulated 5,000 or more miles also do not qualify. This offer cannot be used for new vehicles previously ordered or delivered before May 17, 2021 and is only valid on delivery of in-stock vehicles. Offer valid to 2021 May Central Region BMW Fuel the Mission Sales Event participants and their family members residing within the same household. Offer valid on final negotiated lease or purchase price and may be combined with other applicable BMW offers that are available at the time of purchase, except, that it may NOT be combined with other redemption code offers from previous events. It also may not be used toward tax, title, destination and delivery charges. Only one redemption code per vehicle may be used. Only valid at participating dealers. Please see your participating BMW Center for complete program details. The BMW name, model names and logo are registered trademarks.
Visit our New BMW Showroom in St. Louis any time!

    With our new showroom and an extensive BMW inventory, there has never been a better time to get behind the wheel of the Ultimate Driving Machine
®.
The BMW Fuel the Mission Sales Event - May 2021
Great selection of New BMW, Demo and Service Loaner Specials.

More New Inventory arriving soon already shows on vehicle listing page.

BMW Credits and Dealer Cash up to $10,000 on select models.

Additional Owner Loyalty credit up to $2,000 on select models.

Leases starting at $399 per mo for 36 months on select models. 

and APR rates as low as 0.9%!
Don't miss out.  Click the button below to schedule your visit.  Thank you for choosing Autohaus BMW!